Have you ever seen a pair of earrings online that you absolutely fell in love with, and ordered them only to find out they look far better on the website than they do on you?
We've all been there. Online shopping, while enjoyable in many ways, can also be a bumpy ride at times! Buying jewellery online can often be quite tricky. Unlike clothes, where you can easily and correctly guess your size, with jewellery – particularly earrings – it can be quite hard to tell what might suit you or not.
Every face is different. We all have unique features – some have large eyes, some a narrow jawline, still other have full cheeks while a few have prominent cheekbones. The earrings you select need to compliment your face, bringing out your best features. Here's how to select the best earrings for your face shape.
The general rule of thumb is to avoid earrings with shapes that are similar to your face shape. However, exceptions always exist!
1. Round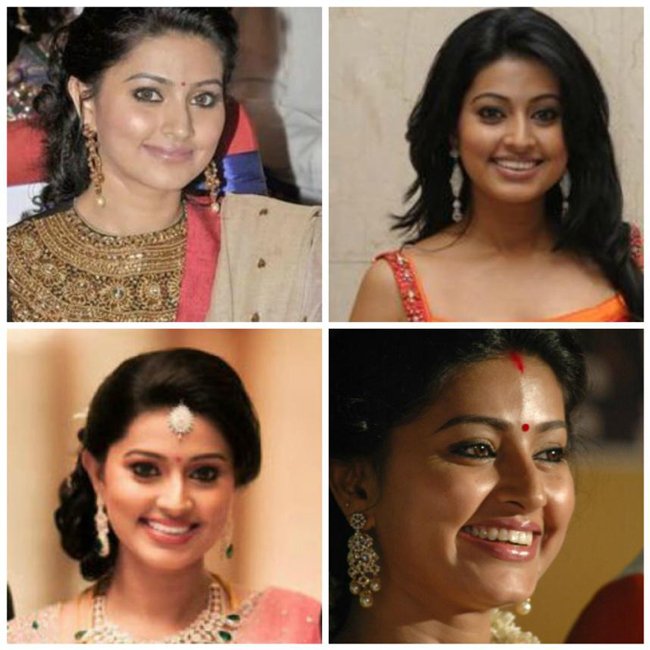 (Actress Sneha whose rounded jawline and wide cheekbones give her a round face)
If your face is widest at the cheeks and has more of a circular form, it is round. People with this type of face-shape are often called baby-faced, as their face belies their true age, making them look far younger than they are. The type of earrings that best suit this face are long dangling earrings or tear drop ones. Don't be afraid to experiment with bold geometric or angular shaped earrings as this face shape can carry them off best. Avoid studs or round earrings – except in situations where you want to create a young, innocent or 'cute' look for yourself. Actress Sneha typically prefers to wear long danglers or drops to accentuate her round face – she even wore a pair of diamond danglers to her wedding reception!
2. Square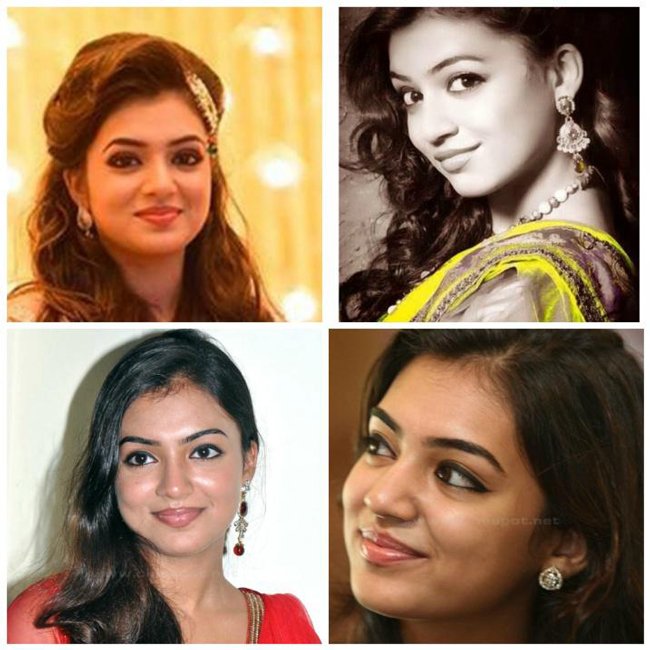 (Actress Nazriya Nazim's cheekbones and jaw are both equally wide, giving her a square face)
While this kind of a jaw line, you need to be careful and soften the lines with earrings that complement. Angular or geometric patterns are a no-no; as are earrings that are too wide. Oval earrings, drops or danglers, tear-drop shaped ear rings look best on this face shape. You could experiment with hoops too, as long as you don't pick out ones that are too thick. Actress Nazriya's square face is complement by delicate drops and danglers or small studs.
3. Oval
(From drops to hoops to studs to danglers – actress Trisha can carry off any earring thanks to her face shape!)
Oval shaped faces are the luckiest when it comes to earrings as practically any type of earrings suits them well. Oval shapes can pull of drops, danglers, studs, hoops – anything they like. Perhaps the only thing that doesn't look good on an oval face is not wearing any earrings!
4. Heart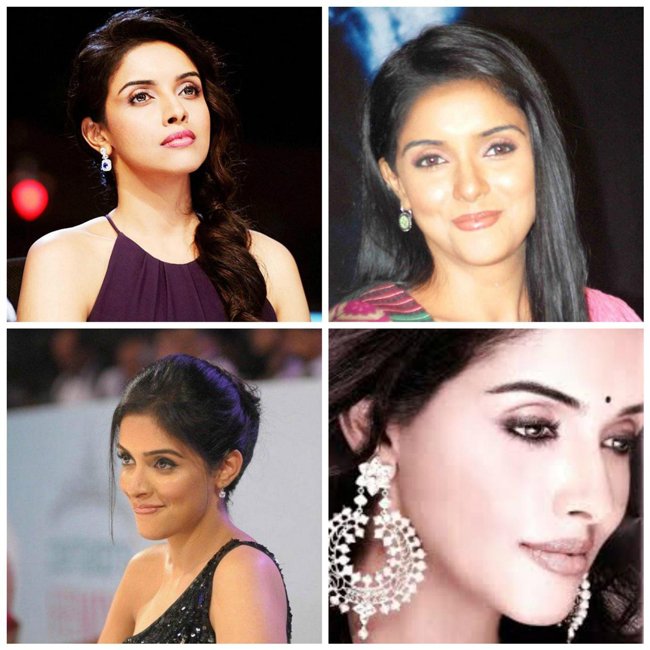 (Actress Asin's prominent chin and delicate jawline make her face triangular or heart shaped )
Almost triangular, heart shaped faces have a prominent chin and are widest at the forehead. Earrings are practically a must for these face shapes, as they help balance out the face. Tear-drops and studs look beautiful on heart shaped faces – in fact almost no one can carry of studs the way heart-shaped people can. The trick for heart-shaped faces in to find drop earrings that are heavier on the bottom, almost triangular shaped. Actress Asin carefully selects her earrings – choosing to wear small drops or studs and staying away from danglers or long earrings. When she wears large earrings, she ensures they are heavier on the bottom.
5. Diamond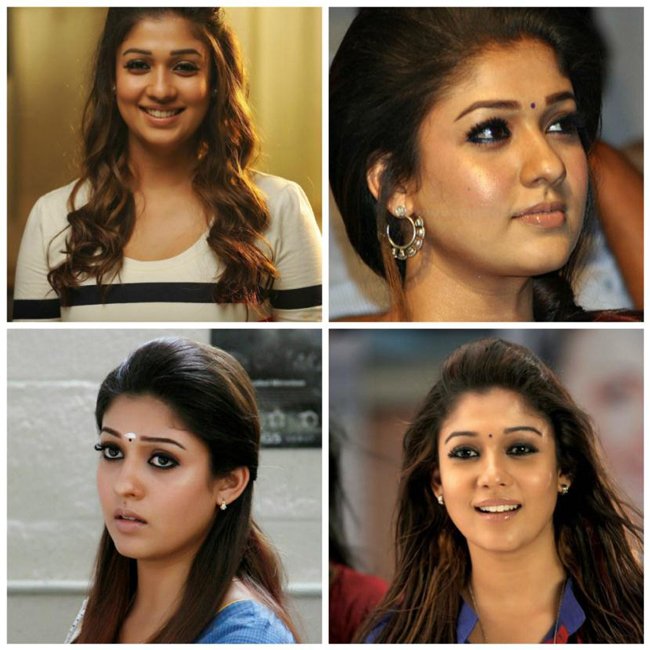 (Actress Nayantara's tapering forehead and chin with wide cheekbones give her a diamond shaped face)
If you have an oval face with prominent cheekbones and a narrow jaw line – you could call your face diamond shaped. Diamond shaped faces are more angular and their lines more accentuated than oval faces. Because the face is so angular you want to complement that with rounded, oval or tear-drop earrings. Hoops and huggies look great on such face shapes – but long danglers can weigh the face down. Actress Nayantara is rarely seen with long or drop earrings, huggies and small studs are her favourites, while she occasionally sports a delicate hoop.
Quick tips:
1. As far as possible, ensure your earrings start as close to the ear lobe as possible. Avoid earrings where the hook or findings are too long as come too close to the lobe.
2. The smaller the face the chunkier the earrings can be, and vice versa. With large faces, chunky earrings can be too overwhelming,
3. If wearing over-sized earrings, avoid additional face jewellery like maang-tika or a heavy necklace (unless of course, it's your wedding day). It will overwhelm your face and take the attention away from your earrings. You can instead accessories with a nice hairdo or bangles.
4. Leaving your fair open, or styling it so that it frames your face can make large earrings appear small. Similar tying hair away from the face can emphasize small earrings.
5. Small and dainty danglers in solitaires look good on any face shape. They are also a classic that never go out of style and look great on western and Indian attire
The shape of the earring is the single-biggest factor that decides how well it will suit your face. Ensure you pay this aspect ample attention and you will never own a pair of earrings you don't like!