Among South Indian brides, few stand out on their wedding day the way a Malayali bride does! Dressed in a simple and yet elegant ivory Kasavu saree with gold borders, garlands of jasmine (malligai-poo) in her hair and bedecked in gold – she makes for a very striking picture indeed!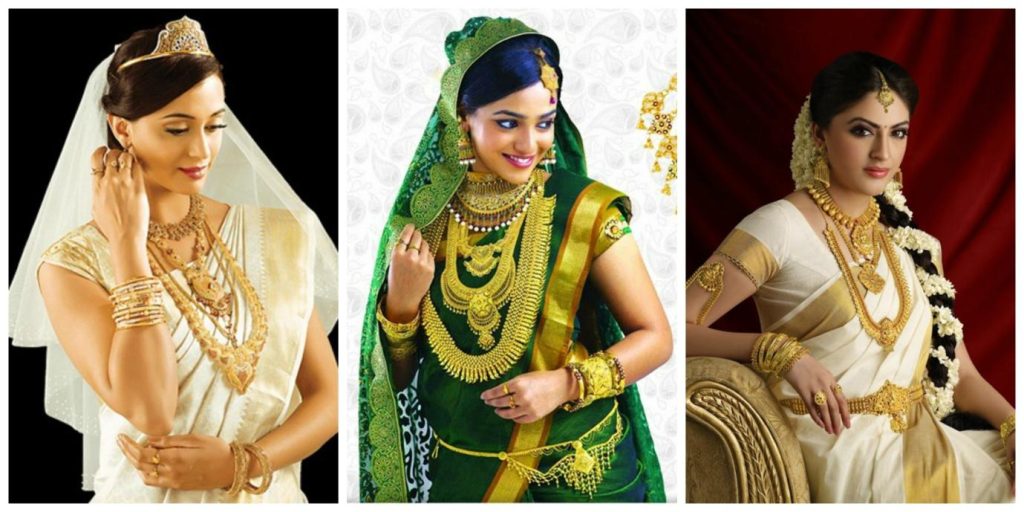 While the Kasavu saree still remains the traditional garment worn by Malayali women at all functions and celebrations, including weddings – tastes are now slowly evolving, and many Kerala brides are opting for brighter, more vibrant silk sarees. Christian Malayalee brides still don the Kasavu or any white and gold saree, accompanied with a veil, while Muslim Kerala brides often opt for bright sarees in hues of green, along with a dupatta to cover their heads.
Neckpieces
The first thing that one notices upon looking at a Malayali bride is the sheer number of neckpieces adorning her décolletage. There are certain things a Malayali bride simply cannot do without – and necklaces are on the absolute top of this list!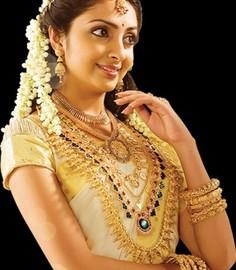 Malayali bridal neckpieces are beautifully crafted with motifs inspired by Kerala's natural beauty. The jewellery predominantly features pearls and rubies, along with uncut diamonds and other precious stones, all painstakingly crafted in pure gold.
Mullamottu
The mulla-mottu is a necklace that you will see on practically every Malayali bride. The name means jasmine buds, and true to its name, the necklace resembles the flowers.
Asin wearing the mulla-mottu with a traditional Kasavu saree.
The shape and style of each mullamottu is different, as is the length. While usually it is worn close to the neck, like a choker, some brides also prefer a long chain.
The Palakka Mala
Set with heart-shaped motifs, usually in emeralds and rubies, the Palakka Mala remains a favourite with modern brides.
The Kaasu Mala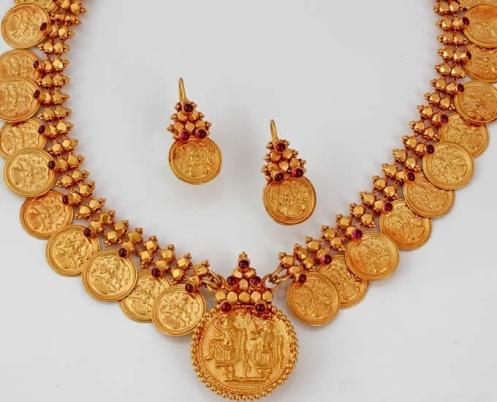 The kaasu mala features coins of Goddess Lakshmi set closely. It looks extremely rich and is a must-have piece for a Malayali bride.
The Nagapada Thali
The Nagapada Thali is another very colourful piece, similar to the Palakka mala. Studded with emeralds and rubies it's quite a statement piece. Most brides prefer to wear a long Nagapada Thali.
The Maanga Mala

Mangoes are called 'maanga' in Malayalam, and even Tamil. It isn't uncommon to find fruit and flower motifs in Kerala art and culture. Mangoes are a very important fruit in the state, used during festivals as well as religious ceremonies. The maanga mala is a characteristic Kerala bridal neckpiece and many traditional brides will certainly wear it. And as you can see, she can opt for a maanga mala in many different styles – plain gold, close-knit or studded with gem stones!
The Poothali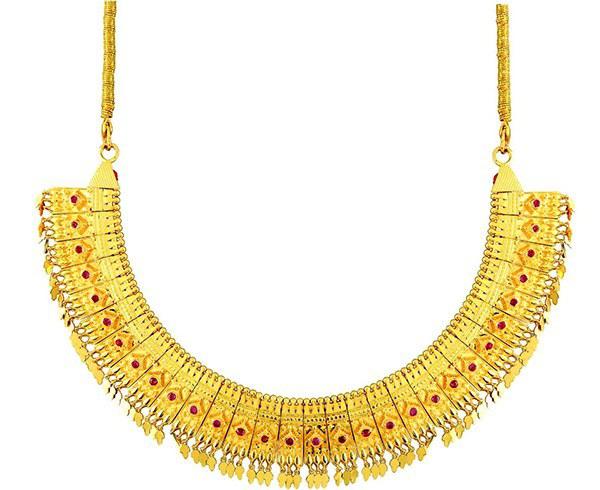 Another intricate necklace, the Poothali (poo=flowers; thali = flat disc/plate) is also nature-inspired, and looks absolutely stunning on a bride.
Thali
Along with the neckpieces, a bride also wears a 'thali' – which is a small pendant given by the groom to the bride as part of the wedding ceremony. It is the equivalent of a mangalsutra or the bhicchua worn by North Indian married women.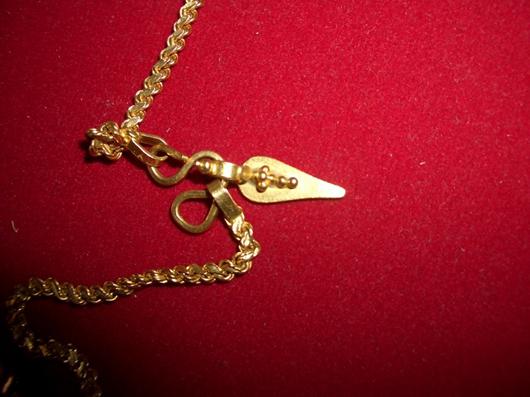 You might think it ends there, but that's just the tip of the iceberg. These are just the most popular ones. Believe it or not, the Malayali bride has over 27 different types of neckpieces to choose from!
And of course, we can't forget the Jhimkis, bangles or the Odiyannam.
Earrings/Jhimkis
While each of the necklaces mentioned above come with their own pair of earrings in a similar design, the most popular earrings for the Malayali bride are the jhimkis. From intricate gold work to gemstone studded and pearl danglers – they come in a variety of designs!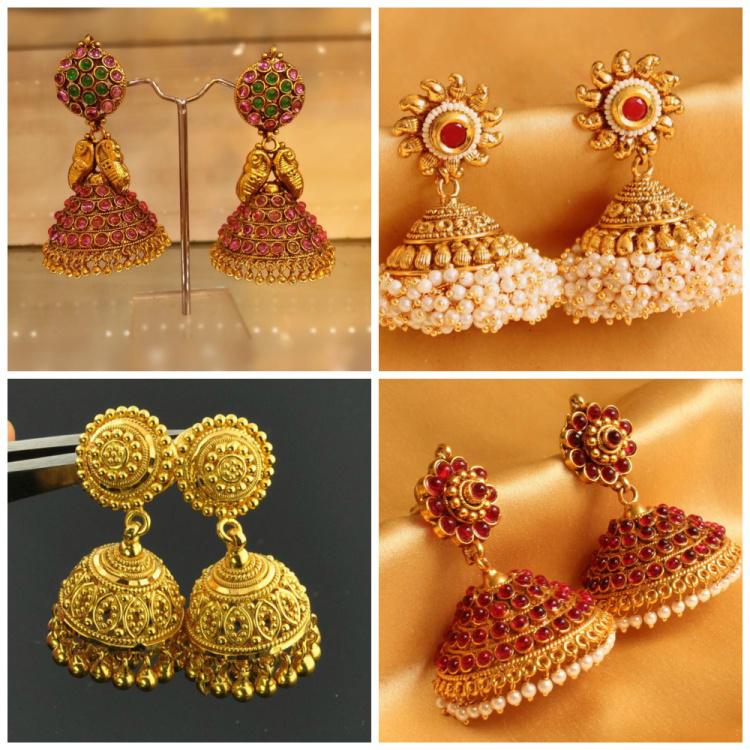 Waist-belt& Bangles
Completing the entire look are the waist belt called Odiyanam and the bangles.
The final look is one of ethereal beauty, simplicity and grandeur!